Stainless Silencers for Triumph motorcycles
Version A for Bonneville 2001-2016 std/T100 versions with wire wheels only (790/865cc).
Version B for Thruxton 900 all versions 2004-2016 (865cc).
Version C for
- Street Twin (2016-2021)
- Street Cup (2017-2019)
Version D for
- Bonneville T100 (2017-2021)*
- Bonneville T120 (2016-2021)*
Version E for Speed Twin (2019-2021)*.
Version F for Thunderbird 900 (1995-2003).
Version G for Thunderbird Sport (1998-2004).
*not suitable for Euro5 versions from 2021+.
Description
Pair of stainless steel silencers with removable dB-killers.
100% stainless steel construction, handmade in Italy, fantastic quality.
These are hand-made to requirement, specifically for your bike. So they fit with no need for brackets/bends, they come in direct replacement of the original items.
Three finishes to choose from: brushed stainless steel, "mirror effect" polished or ceramic black treatment (autoclave-baked for ultimate aspect and strength).
Benefits
- Weight gain: less than 3 kgs per pair, less than half of the original exhausts!
- Performance gain: around + 5% in torque and power, effect felt in particular at low/medium revs
- Better heat dissipation
Noise level 3/10: a little louder than the originals, with a "classic" sound style.
The dB-killers are removable in a few minutes. Without the dB-killers, the noise is of course higher without being "antisocial" (or getting you into trouble).
Certification/ECU adjustment
- for bikes up to 2016, these silencers come with a Euro3 certificate and are therefore road-legal in Europe ; a carb/EFI adjustment is not strictly required (the bike will work fine without it) but it is recommended to gain all the performance benefits of these silencers.
- for bikes since 2016, the silencers come with a Euro4 certificate and are therefore road-legal in Europe ; There is no need to perform an ECU adjustment, it will automatically adjust itself to maximise the gain in performance.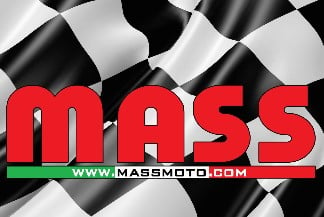 Designed and crafted by MASS Moto in Italy. MASS is a small company that combines passion and high technology to produce products of very high quality and perfect finish. All MASS products are made of aviation-quality stainless steel.
Fitment
Easy assembly with basic mechanical knowledge.
24-months warranty.