"Hot Rod" Exhaust System (Stainless Steel)
Application
- Bonneville versions with wire wheels (2001-2016, 790/865cc)
- Thruxton 900 all versions (2004-2016, 865cc)

Note 1 : on carburetor versions you need to fit plugs in the lambda sensor holes (leave a message with you order and we will supply two).
Note 2 : not for Bonneville std/SE versions with alloy wheels.
Note 3 : not compatible with a center stand (if your bike has one, get rid of it and use our workshop stand, much smarter solution !).

Description
Stainless steel 2-into-2 exhaust line with side outlets. The dB-killers are integrated within the pipes for a "total" look. The pipes are "double-layer", with a layer of soundproofing sandwiched between two concentric steel pipes, allowing the "no-muffler" look.
Thicker diameter than stock pipes for better looks, 60mm at their widest. The conical shape also allows a better "outdraft" hence a faster exit for the exhaust gases.

Available in polished stainless steel finish, or satin black (powder-coated then baked in 300C autoclave oven).

Weighs only 5 kg, 4 kg less than the original exhausts.

Noise level intermediate (louder than standard, but not "antisocial"). Removable baffles. This video (here) will give you a good idea of the sound produced. Certified "Euro 3" (with dB-killers in place), supplied with E3 certificate.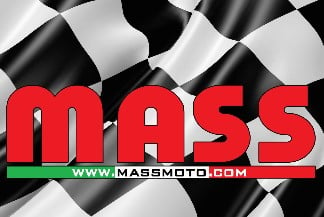 Designed and crafted by MASS Moto in Italy. MASS is a small company that combines passion and high technology to produce products of very high quality and perfect finish. All MASS products are made of aviation-quality stainless steel and are type-approved for Europe.
Fitment
We recommend fitment by a professional, unless you are experimented in such things.
Requires no modification of the bike, totally reversible assembly. 
It is recommended to perform a carburetor/injection adjustment to maximise the gain in performance and sound.

12-months warranty.
Super équipe, super produits! Le "Hot Rod" fonctionne à merveille!!
Je recommande a 200% !!!
Très belle ligne d'échappement, très jolie bruit avec les chicane , sans les chicanes ça fait plus de bruit qu'une Harley !!