MASS "Under Engine" Exhaust System (s/steel)
Application
- Bonneville T100 (2017-2021)*
- Bonneville T120 (2016-2021)*
- Street Twin (2016-2021)*
- Street Cup (2017-2019)

*not suitable for Euro5 version from 2021+.
Note: Not compatible with a center stand (if your bike has one, get rid of it and use our workshop stand, much smarter solution !).
Does not fit any other model/version than those listed above.

Description
Stainless steel exhaust line with two silencers situated under the engine for a retro/sporty look, a better sound, lower weight and a noticeable performance gain.
Sound-deadening baffles and (optional) catalysts are integrated in the system in an invisible way, preserving the visual purity and retro looks of these exhausts.

Weighs only 6kgs, 4kgs less than the original exhausts on a Bonneville.
Available in polished or brushed stainless steel finish, or in satin black (powder-coated then baked in 300C autoclave oven).
The downpipes include placements for the O2 sensors (which you can also easily remove).

Noise level intermediate (one step louder than standard, but nothing to get you in trouble). Listen to them here (video).
Available as an option with integrated (invisible) catalysts, in this case the system is supplied with Euro4 certificate.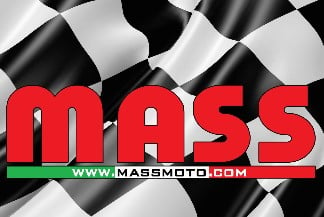 Designed and crafted by MASS Moto in Italy. MASS is a small company that combines passion and high technology to produce products of very high quality and perfect finish. All MASS products are made of aviation-quality stainless steel and are type-approved for Europe.

Fitment
Medium difficulty installation with some mechanical knowledge.
Requires no modification of the bike, totally reversible assembly.
No need to reprogramme the ECU, which is self-adaptive on the 900/1200cc Twins.
24-months warranty.