Stainless Full Exhaust System for Scrambler 1200
Application
For Triumph Scrambler 1200 XC/XE from 2019-2021.
Not suitable for Euro5 versions from 2021+.
Description
The Scrambler 1200 has a major flaw: because of the lean combustion, it produces a lot of heat ... and as the exhaust passes a few inches from the right leg, riding can be unpleasant.
Hence the idea of ​​this exhaust that takes a more classic line, but spares your thigh!
Other advantages :
- Construction "100% stainless steel", it will last the life of the bike!
- Weight gain 4.5 kgs
- Slight performance gain (about + 5% torque and power)
- Brushed aluminum finish
The system includes an integrated dB-killer, which is easily removable for more soundtrack.
The version with catalytic converter is Euro4 compliant with certificate in English and German. The version without catalyst is obviously not.
The system includes locations for the O2 / Lambda probes, which you can put back into place (the ECU will recognize the gain in gas flow and adjust its settings), or replace with our removal kit (see 
here
)?
Delivered with laser-cut aluminum trim to cover the right side cover which is normally hidden by the original line.
No modification of the engine management required, the ECU will automatically adapt the map to the new parameters.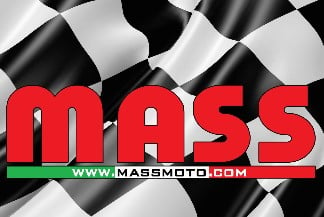 Italian manufacturing of superb quality, hand-built and hand-finished.
Design and handcrafted by MASS Moto in Italy. MASS is a small craft company that combines passion and high technology to produce products of very high quality and beautiful finish. All MASS products are constructed of aviation grade stainless steel.
Fitment
Comes as direct replacement of the original line, requires no modification of the motorcycle, completely reversible assembly.
The assembly does not include any particular difficulty but we recommend you to use a professional, unless you are experienced in the field.
12 months warranty.