Stainless Steel "Hot Rod" Exhaust System
Application
- Bobber std (2017+)
- Bobber Black (2017+)
- Speedmaster 1200 (2018+)

Description
Stainless steel 2-into-2 exhaust line with side outlets. Two mini-catalysts are integrated within the pipes for a "total" look. The pipes are "double-layer", with a layer of soundproofing sandwiched between two concentric steel pipes, allowing the "no-muffler" look.
Thicker diameter than stock pipes for better looks, 60mm at their widest. The conical shape also allows a better "outdraft" hence a faster exit for the exhaust gases.

Available in polished stainless steel or brushed stainless steel finish, or ceramic black (powder-coated then baked in 300C autoclave oven).

Weighs only 5 kg, 4 kg less than the original exhausts.
Noise level intermediate (louder than standard, but not "antisocial"). See this video. The catalysts are easily removed if you want a bigger soundtrack.
Available with catalysts as an option, for Euro4 compliance, in this case it is supplied with E4 certificate.
The system includes locations for the O2 / Lambda probes, which you can put back into place (the ECU will recognize the gain in gas flow and adjust its settings), or replace with our removal kit (see here)?
No modification of the engine management required, the ECU will automatically adapt the map to the new parameters.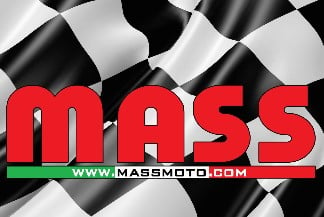 Designed and crafted by MASS Moto in Italy. MASS is a small company that combines passion and high technology to produce products of very high quality and perfect finish. All MASS products are made of aviation-quality stainless steel and are type-approved for Europe.
Fitment
We recommend fitment by a professional, unless you are experimented in such things.
Requires no modification of the bike, totally reversible assembly. 
It is recommended to perform a carburetor/injection adjustment to maximise the gain in performance and sound.

12-months warranty.