Catalyst Converter Bypass Pipe on Triumph 900/1200cc Twins
Application
- Triumph Street Twin 900, Street Cup (2016+)
- Triumph Bonneville T100/T120 (2016+)
- Triumph Thruxton 1200 and 1200R (2016+)
- Triumph Bobber (2017+)
Description
Bypass stainless steel for the removal of catalyst - fits in place of the catalyst, between the downpipes and the silencers. An integrated bracket to fixthe bypass on the frame avoids stressing the downpipes with too many vibrations, ensuring no long-term damage.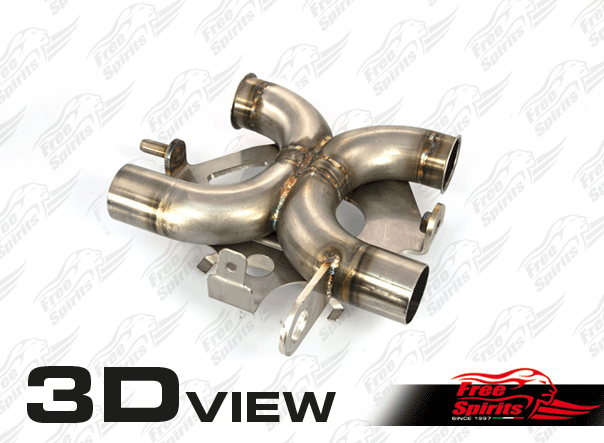 Advantages :
- Performance gain (+8bhp at the dyno !)
- Better engine sound
- Decreases the temperature of the engine, which results in a "rounder" performance and reduces the appearance of "bluing" on the downpipes
- no increase in fuel consumption as the engine mapping is not affected
This change does not trigger the engine warning light as the O2 sensors remain in place (right off the cylinder head). You can also remove those sensors (with
this kit
) to facilitate cold-engine starts and idle, and simplify the bike's electrical system.
The original cat shield is re-fitted in place, which makes the modification invisible...
Mounting
Fairly easy installation with basic tools.
2 years warranty.
Note: This change makes your non-compliant with the original bike, and as such it is not strictly legal for road use. The installation of this kit is your responsibility.
Très belle fabrication. Montage assez simple, bien suivre la notice et prévoir un embout Torx de 55 pour l'écrou moteur.
La "musique" est vraiment génial, pour moi plus la peine d'investir dans des silencieux, montées en régime et reprises sur le couple plus franches, mais attention pas 10 CV de plus !
Qualité de fabrication irréprochable : un grand bravo Free Spirit!!! Amélioration sensible du volume sonore au point que je n'envisage plus de changer mes silencieux.. dans l'immédiat -
Simple remarque quant au "Montage sans difficultés techniques"... : c'est le cas, mais le nombre important d'éléments à démonter/remonter impose une rigueur qui peut facilement déstabiliser un mécano novice.. comme moi :-)
Nicolas - T120 2016